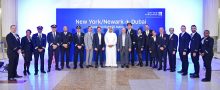 United Airlines has launched a new nonstop daily service between its New York/Newark hub and Dubai International (DXB). United is the only U.S. airline to offer non-stop flights between Dubai and the United States, flying to more destinations in the Middle East than any other U.S. airline. The new service marks United's return to Dubai, which the airline previously served up until 2016.
The launch of the new service is part of United's historic commercial agreement with Emirates, announced in 2022, enhancing each airline's network and giving customers easier access to hundreds of destinations within the United States and around the world. Customers from the U.S. flying to Dubai can travel onwards with Emirates or its sister airline flydubai to more than 100 different cities, providing more options to connect across the Middle East than ever before, whilst customers flying from Dubai to New York can take advantage of onward connections with United to over 80 destinations across the Americas.
The agreement between United and Emirates also provides loyalty programme members of both airlines additional opportunities for more rewards: United MileagePlusSM members flying on United's Newark/New York to Dubai flight can earn and redeem miles when connecting beyond to select Emirates destinations in Africa, the Middle East, and South Asia, whilst Emirates Skywards members will be able to earn miles when they travel on United operated flights. Customers booked to fly in United PolarisSM can also take advantage of access to Emirates lounges when travelling on, or connecting to and from, United's new Dubai service.
"At United, we're committed to expanding and enhancing our network to give our customers the best access to destinations around the world – all while having a best-in-class travel experience," said Patrick Quayle, United's Senior Vice President of Global Network Planning and Alliances.  "Our new service between New York/Newark and Dubai, along with our new partnership with Emirates and flydubai, makes it even easier for customers to travel to Dubai or connect to any of the hundred destinations offered by our partners across Africa, the Middle East and Asia."
"We are thrilled to welcome United Airlines back to Dubai International (DXB) with the launch of their new non-stop daily service from New York/Newark," said Majed Al Joker, Chief Operating Officer of Dubai Airports. "The new service enhances DXB's connectivity with the United States, reinforcing our position as a leading global hub, and enabling us to offer our guests greater access to destinations across the Middle East, Africa, Asia and beyond. We look forward to continuing our partnership with United to deliver a seamless experience for hundreds of thousands of flyers each year while providing them with more choice and travel options."
"The new non-stop route between New York/Newark and Dubai will ferry thousands of business people, tourists, goods, and families between these global centres of trade and commerce, further deepening and expanding the connections between our two countries," said Sean Murphy, U.S. Chargé d'Affaires to the U.A.E.  "Congratulations to United Airlines on this important launch."
"As global tourism continues to recover rapidly, Dubai has become one of the most popular destinations for U.S. travellers seeking to explore the excitement, heritage and culture of the Middle East," said Issam Kazim, CEO, Dubai Corporation for Tourism and Commerce Marketing. "This direct route opened by United Airlines will pave the way for an increased flow of leisure and business travellers to Dubai from the United States, an important North American market, which shows ongoing opportunities for growth. As we focus on accelerating momentum throughout 2023, inspired by our visionary strategy in line with the D33 agenda with the goal of consolidating Dubai's status as one of the top global cities, the non-stop flight will further reinforce our positive relationship with the U.S. travel trade ecosystem and boost our multifaceted destination proposition in this new era of travel. It is also a testament to the continued support extended by our global partners like United Airlines to drive growth and maintain the stability of Dubai's tourism sector."
The new route from Dubai to New York/Newark demonstrates United's transatlantic leadership among U.S. airlines. As well as Dubai, the airline's 2023 summer schedule includes adding flights to Malaga, Spain and Stockholm, Sweden, and eight more flights to some of the most popular destinations in Europe: Rome, Naples, Paris, Barcelona, London, Edinburgh, Berlin and Shannon. Along with adding new flights, United will fly nine routes it added in summer 2022, including direct flights between New York/Newark and Nice; Denver and Munich; Boston and London Heathrow; Chicago/O'Hare and Zurich; and Chicago/O'Hare and Milan, as well as flights to four destinations not served by any other North American airline – Amman, Jordan; Azores, Portugal; Palma de Mallorca, Spain and Tenerife, Spain.
In total, United will fly to 37 cities in Europe, Africa and the Middle East this summer, more destinations than all other U.S. airlines combined.
United is seeing unprecedented demand for international travel this summer compared to last year. The airline's international schedule is more than 25 per cent larger than in 2022 to serve the continued demand strength.
Dubai (DXB) to New York/Newark (EWR)
| | | | | | | | |
| --- | --- | --- | --- | --- | --- | --- | --- |
| Flight | From | To | Depart | Arrive | Frequency | Aircraft | Start date |
| UA 163 | DXB | EWR | 01:55 | 08:45 |  Daily | Boeing 777-200ER |  28 March 2023 |
| UA 164 | EWR | DXB | 21:40 | 19:05 +1 |  Daily | Boeing 777-200ER |  25 March 2023 |
All times are local and are subject to change.
United's new service from Dubai to New York/Newark is operated with Boeing 777-200ER aircraft, featuring 50 all-aisle-access United Polaris business suites, 24 United Premium PlusSM premium economy, 46 Economy PlusSM and 156 economy seats.
United Polaris business class is a premium travel experience that prioritises relaxation and comfort, featuring restaurant-quality inflight dining, premium amenity kits and full flat-bed seats.
United Premium Plus features a spacious seat with more legroom, elbow room and recline than a standard Economy Plus or economy seat, as well as an amenity kit and a Saks Fifth Avenue blanket and plush pillow.
United Economy Plus offers added legroom and increased personal space. Located near the front of the economy cabin, the seats give the added benefit of a swifter exit from the plane on arrival. Economy Plus seating is available on all transatlantic flights.
United economy offers complimentary food, soft drinks, juices, beer and wine, tea, coffee as well as inflight entertainment. Seats feature an adjustable headrest and a personal on-demand entertainment system.
United in the United Arab Emirates
United initially served the United Arab Emirates between 2008 and 2016, with service returning in 2023. The flight between Dubai and New York/Newark is conveniently timed to connect at United's hub with an extensive network of services to destinations throughout the Americas. United customers in the U.A.E. can book flights by visiting united.com or contacting United Reservations locally on 08000-441-5492 Toll-free (Saturday – Thursday 09:00 – 11:30, Friday 18:30 – 23:30) or their travel agent.
United in New York/Newark
Located just 14 miles from Manhattan, Newark Liberty International Airport offers the fastest surface transfer journeys to many parts of the city, including the AirTrain service to New York Penn Station in midtown Manhattan, with a journey time of less than 30 minutes.
This summer, United will operate over 430 daily flights to 151 destinations in 44 countries from Newark. United's Newark hub is its largest transatlantic gateway.