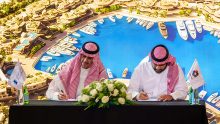 Sindalah is expected to start welcoming guests to enjoy its bespoke nautical experiences, exquisite facilities and exclusive offerings from early 2024. It is anticipated that the development will create 3,500 jobs for the tourism sector and hospitality and leisure services. With its incredible array of amenities, state-of-the-art marine facilities, strategic location and exceptional natural landscapes, Sindalah is expected to become established as one of the most alluring islands in the Red Sea. Extending over an area of approximately 840,000 square meters, Sindalah, is one of a group of islands that will be developed in NEOM, each according to its unique vision and design.
Building on its ability to design new tourism opportunities from the ground up, NEOM is working with world-class leisure and hotel brands to make Sindalah an exclusive and glamorous destination in the Red Sea for the world's yachting community. NEOM is developing the island to be a premium destination surrounded by a stunning and diverse marine environment which has one of the world's most beautiful coral reserves.
This was disclosed as NEOM signed an agreement with Riyad Bank for SAR 3 billion in debt financing to help fund the development of Sindalah, marking the first NEOM region to be successfully financed with bank debt. Riyad Bank is one of the largest supporters of Saudi Vision 2030 and has developed a diverse range of initiatives specifically designed to support business capabilities from establishment, logistics and investment. Its strategic locations across the world include England, US, Singapore, and soon China, all of which facilitate foreign investments, managed by a talented and experienced team of specialists.
Tareq A. Al-Sadhan, CEO, Riyad Bank, added: "NEOM represents an incredible opportunity for our organization to play a small part in helping make this exciting project a reality. We are proud to be the first financial institution to partner with Sindalah and are confident in the prospect of their future success."
Rayan Fayez, Deputy CEO, NEOM said: "The Sindalah debt financing signifies NEOM's desire to diversify its funding sources, involve the private sector and attract capital of all types in the development of NEOM. We have a number of projects currently underway, and in the pipeline, that represent very attractive commercial opportunities for the global financial community to participate in."