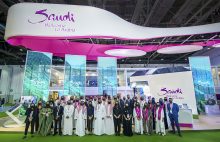 Saudi Tourism Authority (STA) and leading Indian online travel agency Travel Boutique Online (TBO) signed a Memorandum of Understanding (MoU) to develop destination knowledge of Saudi through new, innovative programs on the TBO Academy platform, reaching 90,000 agents globally and targeting 25,000 visitors by 2022.
"Saudi is driving a new model of tourism for the twenty-first century," said Fahd Hamidaddin, CEO of the Saudi Tourism Authority. "This year's ATM demonstrated the recognition by major global travel industry players of the tremendous opportunities our dynamic and growing tourism industry offers."
More than 20 Saudi partners converged at the Saudi exhibitor stand, which witnessed over 890 meetings and a flurry of deals between the country's leading travel companies and international tourism partners, showcasing the fast-expanding offering of one of the world's newest leisure travel destinations.
"Partnerships with the world's major tourism players are transforming Saudi's great ambition as a leisure tourism destination into reality, so we were thrilled to see so much positive movement at ATM. We thank ATM's organizers for the opportunity to showcase Saudi's iconic places, profound experiences and unparalleled hospitality to the region and the world," said Fahd Hamidaddin.
The activity at the show mirrored the impressive growth of Saudi's tourism ecosystem. The number of local DMCs has expanded from 17 in the summer of 2019 to 72 today. MSC Cruises will launch two Red Sea itineraries in the fall with Saudi home ports, and major hotel brands including Marriott International, Hilton Worldwide and Accor Group will join IHG in expanding their footprint in Saudi.