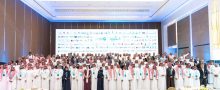 Saudi Tourism Authority (STA) officially launched 'Rethink Summer', its seasonal campaign aimed at promoting Saudi as a diverse, unique summer destination for adventurers and explorers from within Saudi and abroad. As part of the campaign launch, for the first time and in its efforts to empower and enable the private sector, STA brought together key partners within the governmental, private, and tourism ecosystem at an official event held in Riyadh. The briefing event was an exclusive preview into the campaign, the key destinations, events and experiences being showcased and a call-to-action for trade partners to further enhance and strengthen the country's product offering through their own promotions and offers.
His Excellency Ahmed Al Khateeb, Minister of Tourism, Chairman of the Saudi Tourism Authority said: "Saudi is the fastest growing destination worldwide today, with a proven capacity to host visitors from the world over, yearlong. Building on this, we are pleased to launch the 'Rethink Summer' campaign to share the beautiful diversity of Saudi with the world, from the cool, green highlands, to the coasts of the Red Sea and Arabian Gulf. Entertainment events will be special and for everyone. Our partners in the private sector are instrumental in this campaign, offering over 1.8 million additional seats for inbound flights, more than 15 thousand new hotel rooms, and over 100 products tailored to meet the taste of all our visitors this summer. This is the largest contribution of the private sector yet."
The destination is set to hit significant milestones this year, from the opening of the first three resorts at The Red Sea, the world's most ambitious, regenerative, luxury tourism development to Sindalah Island, NEOM's incomparable island destination. Diriyah, the 300-year-old mud city and birthplace of Saudi also recently celebrated the welcoming of one million visitors since its opening in November.