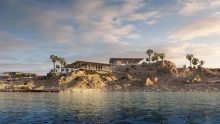 Rosewood Hotels & Resorts has been selected by Red Sea Global to manage Rosewood Amaala in the Red Sea Region of Saudi Arabia. An area considered to be at the center of the world's most ambitious regenerative tourism projects, the Red Sea is situated along the country's west coast and is home to some of the most diverse and delicate natural environments. Rosewood Amaala will be part of Red Sea Global's Amaala destination, an integrated wellness haven.  Phase One of Amaala – focused on the Triple Bay masterplan – is well underway, with the first guests set to be welcomed in 2024. It will consist of eight resorts offering upwards of 1,200 hotel keys. Once complete, Amaala will be home to more than 3,000 hotel rooms across 25 hotels, and approximately 900 luxury residential villas, apartments, and estate homes, supporting high-end retail, fine dining, wellness and recreational facilities.
Sustainability will be at the cornerstone of the property's entire design and the larger Amaala development has set meaningful targets toward zero impact. The entire destination will be powered by 100% renewable energy and aims to have zero-carbon footprint—with plans to be both zero waste to landfill. Additionally, the endangered Hawksbill and Green Turtles have many nesting sites around the Rosewood Amaala beaches, meaning all construction and design work has been centered around ensuring the turtles are left uninterrupted. For instance, no construction will take place around the nesting areas, and the lighting strategies has been designed to ensure no bright lights shine in the area to avoid disruption.
"We are deeply honored to partner with Red Sea Global on Rosewood Amaala and work together to offer a more regenerative model of hospitality for future generations," says Sonia Cheng, Chief Executive Officer at Rosewood Hotel Group. "Rosewood's values of prioritizing both people and planet through impactful offerings connects seamlessly with the development's larger vision, and we look forward to embracing our role of providing a wellness oasis nestled within this ambitious project."
From the moment guests enter the resort, they will be immersed in a world of contrasts. Hidden amongst the verdant green landscapes and the drama of the Red Sea coast, a timeless architecture immerges to delight and inspire. The property will offer an array of distinctive culinary experiences including fine dining, casual eateries and beach inspired club lounges, all taking advantage of the Red Sea views. To protect the precious coral reefs that wrap around the resort, the property will provide two rock pools, allowing guests safe access to the water and sand.
Families can enjoy the programs available at the resort's Rosewood Explorer's Club which aims to curate meaningful child-friendly experiences with the hopes of inspiring the next generation of conscious travellers.
The focal point of the Resort's wellness offering is the Asaya Spa. The Spa is discretely hidden away amongst the rolling landscape, providing a sanctuary for meditation, tranquillity, and well-being.  Complete with private treatment pavilions set around a protected green oasis, this refuge will embody Asaya's commitment to creating thoughtfully designed spaces where guests can relax and rejuvenate.
John Pagano, Group CEO of Red Sea Global said: "We are truly proud to reveal this partnership with Rosewood Hotels & Resorts – an iconic and world-renowned brand that shares our values in protecting people and planet, and belief in the potential of tourism as a force for good. Rosewood Amaala has been meticulously designed to seamlessly integrate indoor and outdoor living, while offering guests a level of privacy and exclusivity often found in an all-villa resort. Together, we want to create a lifestyle oasis for our guests that aims to welcome a regenerative era of travel, while shining a positive light on this diverse corner of the globe."
Supporting Rosewood's goal of thoughtful expansion that leaves guests and communities with a measurable positive impact, this partnership is a truly organic way for Rosewood's pipeline to grow. Rosewood Amaala joins the brand's strong pipeline of projects set to open in the Middle East including Rosewood Doha (2023), Rosewood Riyadh (2025) and Rosewood Red Sea (Future Opening.)