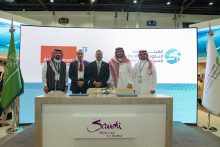 Al Rostamani Travel and Holidays and the Saudi Tourism Authority are excited to announce a new strategic partnership. This cooperative endeavour focuses on promoting tourism in Saudi Arabia to UAE residents. Under this agreement, Al Rostamani Travel and the Saudi Tourism Authority will work together to showcase the natural wonders, cultural heritage, and unmatched hospitality of Saudi Arabia to travelers from the UAE. The goal is to create unparalleled travel experiences, fostering deeper connections and understanding between the two nations.
The partnership aims to offer UAE travelers the chance to immerse themselves in Saudi Arabia's diverse landscapes, including the awe-inspiring rock formations of Al Ula, the bustling streets of Riyadh, the tranquil Red Sea coast, and the breathtaking archaeological marvels of Madain Saleh. Al Rostamani Travel and the Saudi Tourism Authority are committed to providing seamless travel experiences that exceed expectations with tailor-made itineraries, curated tours, and exceptional customer service.
Bimal Jain, General Manager of Al Rostamani Travel and Holidays, and Khalid Khan, GCC Trade Director for the Saudi Tourism Authority, officially signed the agreement at the Arabian Travel Market event.
Expressing gratitude for the trust placed in Al Rostamani Travel, the organization acknowledges the significance of this partnership in supporting Saudi Arabia's vision to establish itself as a leading global tourism destination. By leveraging their expertise and resources, both entities will work towards raising awareness about the incredible tourism offerings of Saudi Arabia and inviting UAE travelers to embark on unforgettable journeys. As this collaboration unfolds, the public can look forward to more exciting updates and initiatives to showcase the wonders of Saudi Arabia's tourism industry. Al Rostamani Travel and the Saudi Tourism Authority are determined to create memorable experiences and forge enduring connections between the people of the UAE and Saudi Arabia.