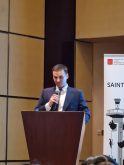 St. Petersburg City Tourist Information Bureau and Committee for tourism development of Saint Petersburg organized a very successful roadshow for the travel trade in Dubai. There were 10 partners who conducted B2B sessions with the agents from Dubai and shared information about the destination and their new attractions and programmes especially designed for the GCC clientele.The partners from St.Petersburg included, DMCs, hoteliers, cruise/shipping companies and medical tourism specialists.
The roadshow was divided into three main parts, the first was the one on one B2B sessions where the travel trade could spend time and get to know the destination, followed by detailed presentations by the partners. The final part of the event was the grand dinner with authentic St.Petersburg entertainment, which included a ballet performance as well.
Ksenia Narvatkina, Chief Specialist of the development department from St. Petersburg City Tourist Information Bureau and Committee for tourism development of Saint Petersburg, shared that they were very excited to showcase the beautiful offerings in their destination and the fact that it was open for visitors from across the globe. The only requirement at present is a negative PCR test 72 hours before flying into the country. She further reiterated that the goal of the event was to promote the potential of St. Petersburg as a world tourist center and to develop partnerships between St. Petersburg tourism enterprises and representatives of tour operators and travel agencies in Dubai.
The presentation videos and the great performances took the audience to the destination for a short period of time. Travel trade agents present at the event shared that it was really a great opportunity to meet with partners in one platform and having different DMCs who tailor make programmes especially for the guests from the GCC was a great initiative.
St. Petersburg is one of the most beautiful megalopolises in the world, which travelers from all over the world come to see. The list of attractions of St. Petersburg is so impressive that it is almost impossible to describe all of them in detail. According to statistics, in pre-pandemic times, the number of tourists in St. Petersburg reached 10 million people. And even more than 10 million!