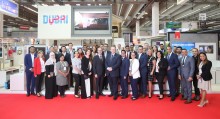 Following a strong start to 2019, Dubai Business Events (DBE), the city's official convention bureau, showcased Dubai's dynamic business events offerings yet again at IMEX, the worldwide exhibition for incentive travel, meetings and events. The aim of DBE's participation at the event in Frankfurt, from May 21 – 23, is to position Dubai as a destination of choice for business events and incentive travel for a global audience of over 14,000 hosted buyers and trade visitors.
This year, alongside more than 30 co-exhibitors, DBE previewed new project plans and milestones that demonstrate a strong focus on transforming Dubai into a global knowledge hub. In addition, the bureau highlighted some of the latest developments in Dubai's state-of-the-art facilities, infrastructure and renowned hospitality sector. Among the co-exhibitors were Coca-Cola Arena, Expo 2020 Dubai and W Dubai – The Palm, all of whom shared new and upcoming offerings with event planners, while the likes of Dubai World Trade Centre, Emirates and Jumeirah Group joined DBE at the show once again, underlining the broader business events infrastructure in the city.
Issam Kazim, Chief Executive Officer of Dubai Corporation for Tourism and Commerce Marketing, said, "Business events play a pivotal role in our city's transformation into a global knowledge economy and our participation in events such as IMEX serve as an ideal platform to support our ambitious tourism strategy. After a strong start to 2019, DBE continues to build on its momentum, attracting events that are set to make a significant economic impact and leave a lasting legacy for delegates from around the globe."
Dubai Business Events aims to further strengthen Dubai's reputation as a premier business events destination globally by promoting the city as a destination of choice through a number of platforms and initiatives that cater to a wide range of business event professionals. Among these activities are inbound study missions, outbound sales roadshows and annual networking events.