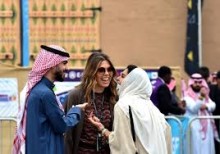 According to the latest data released by various indicators Kingdom of Saudi Arabia has seen an exponential increase of tourists from UAE, USA and UK over 2018 which secured a continued growth in the hotel sector.  A report by Colliers reveal that international arrivals to Saudi Arabia are expected to increase 5.6 per cent per year from 17.7 million in 2018 to 23.3 million in 2023. According to the Savills report, recent tourism growth in Saudi Arabia has been driven by three key demand pools – leisure, pilgrim and corporate visitors.
Paula de Keijzer, Senior Director Market Management, Africa, Indian Ocean, Middle East and Turkey, Expedia Group, said, "Major hotel groups are driving construction trends across the country as they aim to meet the demands of an ever-increasing number of domestic tourists and international visitors. When it comes to brand affinity and customer loyalty, it is essential to engage at each level of the customer journey. Tools, data and insights available via OTA extranet sites, like Expedia Partner Central (EPC), offer hoteliers the opportunity to inspire and convert travelers, set expectations, create personalised experiences, identify and address issues to better meet guest needs, improve guest experience and drive repeat bookings."
With travel bookings in the Kingdom considered the largest in the Middle East and North Africa (MENA), the power of the international traveler growth to Saudi Arabia is expected to remain strong.  USA saw more than 110 per cent year on year growth in demand compared to the same period in 2017 with almost 45 per cent share of total room nights, UAE saw a whopping year on year growth of above 140 per cent than last year with almost 20 per cent share of total room nights whilst the UK had more than 10 per cent share of room nights with a year on year growth of above 40 per cent. The data also revealed strong growth in package demand from travelers in India seeing above 200 per cent year on year increase as well as Spain with an increase of 200 per cent year on year.
Religious tourism is a growing travel sector in the Kingdom, with the demand to the platform's lodging options for Makkah and Madinah increasing by almost 30 per cent and 40 per cent respectively in 2018 versus 2017. Religious tourism is expected to remain the bedrock of the sector over the next decade, with a goal of attracting 30 million pilgrims to the Kingdom by 2030, an increase of 11 million from the 19 million Hajj and Umrah pilgrims that visited the country in 2017.
Factors contributing to this significant increase could be due to initiatives made by the KSA government to boost tourism in the country as part of their ambitious Vision 2030, such as issuing tourist e-visas  in 'three-minutes', rolling out special one-off event visas , expansions of the Grand Mosque in Makkah to accommodate a greater number of religious tourists in the coming years , and the 'Kafalah' programme initiative  to finance commercial establishments for tourism projects in KSA. The KSA government is also developing new attractions & mega developments such as the 30,000-square-kilometer Red Sea project, NEOM as well as the Al Ula project to woo visitors from across the globe.